Encouraging saints around the world since 1991 !!
HYMN RELATED
DOCUMENTS
I've always been fascinated by the history of hymns and hymnwriters, and have started a collection of hymn related books & music signed by the authors and composers
(Graham Kendrick, Timothy Dudley-Smith, Bill & Gloria Gaither, John W. Peterson,
Ralph Carmichael, Keith Getty, Gerrit Gustafson, Homer Rodeheaver,
Charles Gabriel, Lenny Smith, Jimmy & Carol Owens, Will Moody...)
Someday, I hope to donate this collection, along with my music,
to a local seminary.
Here are a few items, not in my collection,
that have appeared on the Internet.
FANNY CROSBY
EBAY ITEM
(sold 9/08 for over $102)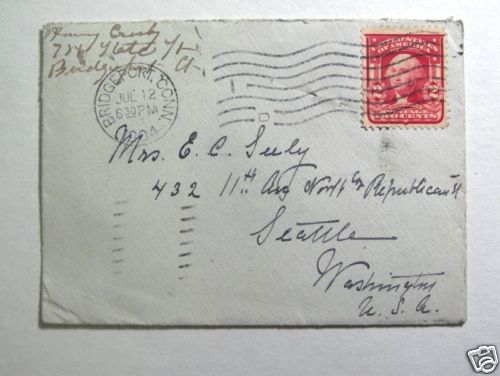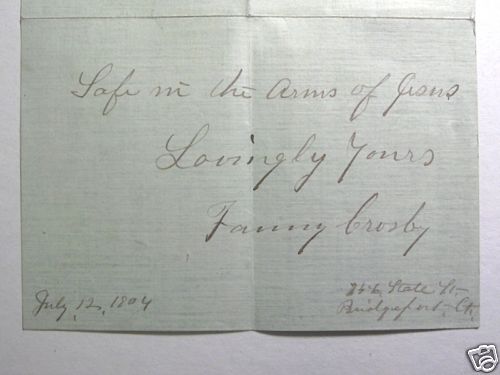 Item Description: Fanny Crosby (1820-1915) American hymn writer: secretarial autograph signature - "Lovingly Yours / Fanny Crosby" - and quoted phrase "Safe in the Arms of Jesus" dated "July 12, 1904/ Bridgeport Ct." with accompanying date-stamped envelope (probably self-addressed) to Mrs. E. C. Seely in Seattle Washington, with return address in same hand and ink as signature. Notes on Crosby's own deficient handwriting, and secretarial assistants follow below.
The quoted phrase and signature are on the lower front fold of a piece of light blue-green notepaper, 5-1/8" x 7" with a partial watermark "...atons/...an Linen" visible. There is a small ink mark, upper right corner, and two pairs of pin holes, upper left corner; the reverse side is blank. There are small shiney smudges in the lower two corners of the script fold and two similar above the horizontal fold line on the front of the sheet, possibly traces of adhesive, but not obscuring the handwriting. The sheet has been cross folded to fit the envelope.
The envelope has a cancelled 2-cent stamp and a date stamp for Bridgeport, Connecticut, July 12, 1904. There is a stamp mark on the back showing it as having been received in Seattle on July 17. The envelope also has one pair of pin holes within the waved stamp cancellation lines, with a crease where a pin likely once laid.
Fanny Crosby, a prolific writer of Protestant hymns, including "Safe in the Arms of Jesus," was blind from infancy. A recent biography by Edith Blumhofer includes the following : "Despite her education, her handwriting was barely legible, and on legal documents she signed her name with an X witnessed by friends". (Her Heart Can See: The Life and Hymns of Fanny J. Crosby, by Edith Waldvogel Blumhofer, Edith L. Blumhofer. Grand Rapids, MI: Wm. B. Eerdmans Publishing, 2005, p. 200). The same book references Crosby's residence in Bridgeport in her later years, as well as her receiving secretarial help with her correspondence at this period from her companion Caroline Rider and a hired assistant, Eva Cleaveland (Blumhofer, p. 320).
This autograph was part of a collection made by Jessie McMillan, later Mrs. Edwin C. Seely, daughter of US Senator Samuel J. R. McMillan (R - Minnesota 1875-87). Some of the items have been preserved with envelopes addressed to her by name, in response to a personal request for an autograph, as in this case.
---
J. E. RANKIN
EBAY ITEM
(sold 9/08 for over $125)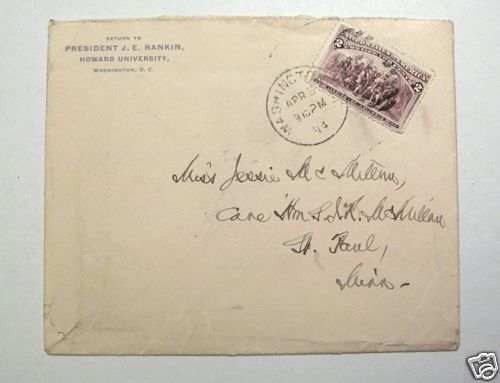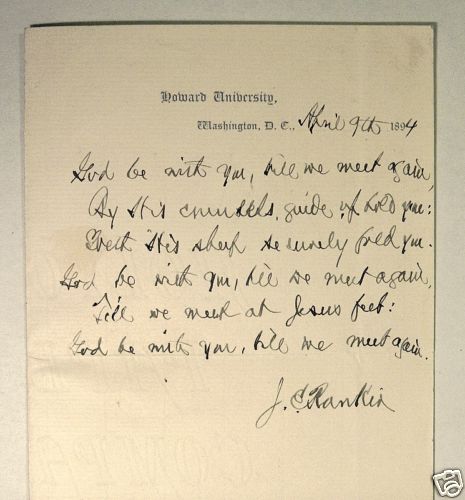 J. (eremiah) E. (ames) Rankin (1828 - 1904) American abolitionist, minister, and president of Howard College in Washington, DC. (1890-1903). Author of the hymns "God Be with You 'Til we Meet Again" and "Tell It to Jesus" : autograph quotation from "God Be With You 'Til We Meet Again" signed "J. E. Rankin" dated April 9th 1894, with accompanying date stamped envelope to Miss Jessie Mc Millan in St. Paul Minnesota.
The quotation is written on one fold of a stationary sheet, 10" x 8" fully opened, ivory laid paper with the watermark "Holyoke Paper Company" and with the printed heading "Howard University, Washington, D. C./ ...................189....". The sheet has been cross folded to fit the envelope, with one aditional fold 7/8" in from the right side that is not as sharply creased as the other two, and may have been added after it was received. The sheet is intact, with sharp corners and edges, some small scattered ink stains on the fold opposite the script, a tan oval stain , about 1/2" x 3/4" affecting the first words of the third and fourth lines of the quotation, and a light handling smudge in the upper right corner, outside the script area.
The quotation includes the following lines from the hymn (with Rankin's spelling and punctuation):

"God be with you, till we meet again,
"By his counsels, guide, uphold you:
"With His sheep securely fold you.
"God be with you, till we meet again,
"Till we meet at Jesus feet:
"God be with you, till we meet again."
The envelope appears to be made of the same paper as the stationary sheet - the laid lines and color match, although no watermark is visible. The return address area is printed "Return to President J. E. Rankin, Howard University, Washington, D.C." The 2-cent postage stamp has a cancellation stamp for Washington C.D. dated April 9 910 PM 94. It is addressed in the same hand and ink color as the quotation and signature to : "Miss Jessie McMillan, Care Hon. S.J. R. McMillan St. Paul, Minn." There is a stamp on the back side marking the envelope as received April 12 / 94.
I have not been able to locate an example of Rankin's signature for reference, but assume that a quotation of this type, obviously given in request for his autograph, would not have been assigned to a secretary. The item is offered in the belief that is genuine, and comes with a full cash refund guarantee if it should prove to be otherwise.
This autograph was part of a collection made by Jessie McMillan Seely, daughter of US Senator Samuel J. R. McMillan (R - Minnesota 1875 - 87). Many of the items were directly solicited by her and include envelopes addressed to her by name, some in care of her father's address in St. Paul, others of a later date to her married name of Mrs. Edwin C. Seely in Seattle, Washington.
---
Lowell Mason
EBAY ITEM (2008)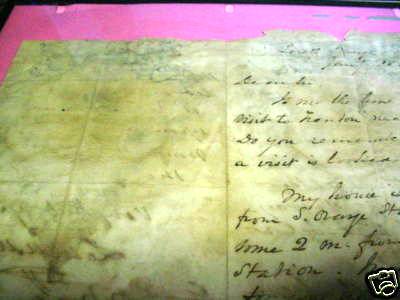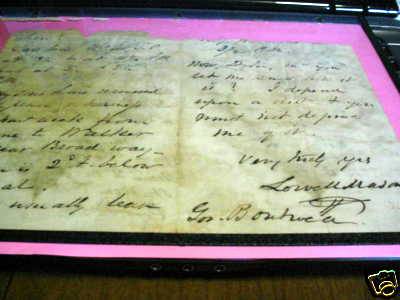 9.5 x 7 letter is written and signed in fountain pen. Letter talks about his family and where he is living. Very brittle with paper missing from the top and some small tears.

Lowell Mason
(
January 8
,
1792
-
August 11
,
1872
) was a leading figure in American church music, the composer of over 1600
hymns
, many of which are often sung today. He was also largely responsible for introducing music into American public schools, and is considered to be the first important
music educator
in the United States. In the last part of his career, as music director of the
Fifth Avenue Presbyterian Church
in New York City, he radically transformed American church music from a practice of having professional choirs and accompaniment to congregational singing accompanied by organ music.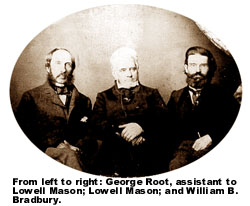 GEORGE F. ROOT LETTER
EBAY ITEM
(sold 2/09 for $80)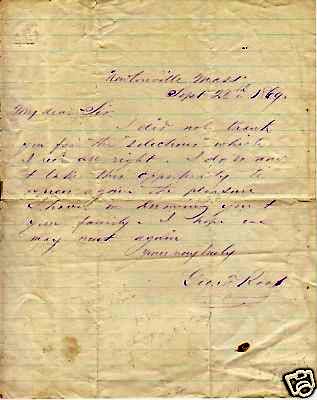 Autograph letter signed, "Geo. F. Root", Newtonville, Mass., Sept. 28, 1869, 1p., appx. 8" x 10". Thank you letter to an unknown recipient for the "selections" sent.
George Frederick Root (1820-1895) - American songwriter of over 200 songs, including The Prairie Flower and notable Civil War era tunes, "Tramp! Tramp! Tramp!", Just Before the Battle, Mother, The Battle Cry of Freedom. Root was inducted into the Songwriters Hall of Fame in 1970. (NOTE: The tune for "Tramp! Tramp! Tramp!" was later used for "Jesus Loves The Little Children"!)
Condition; Ink light, but entirely legible. Otherwise VG.
---
Other Great Hymn Writers
EBAY ITEMS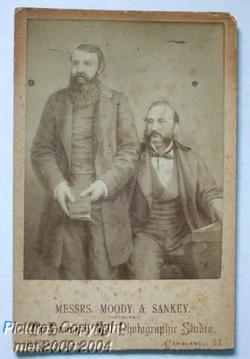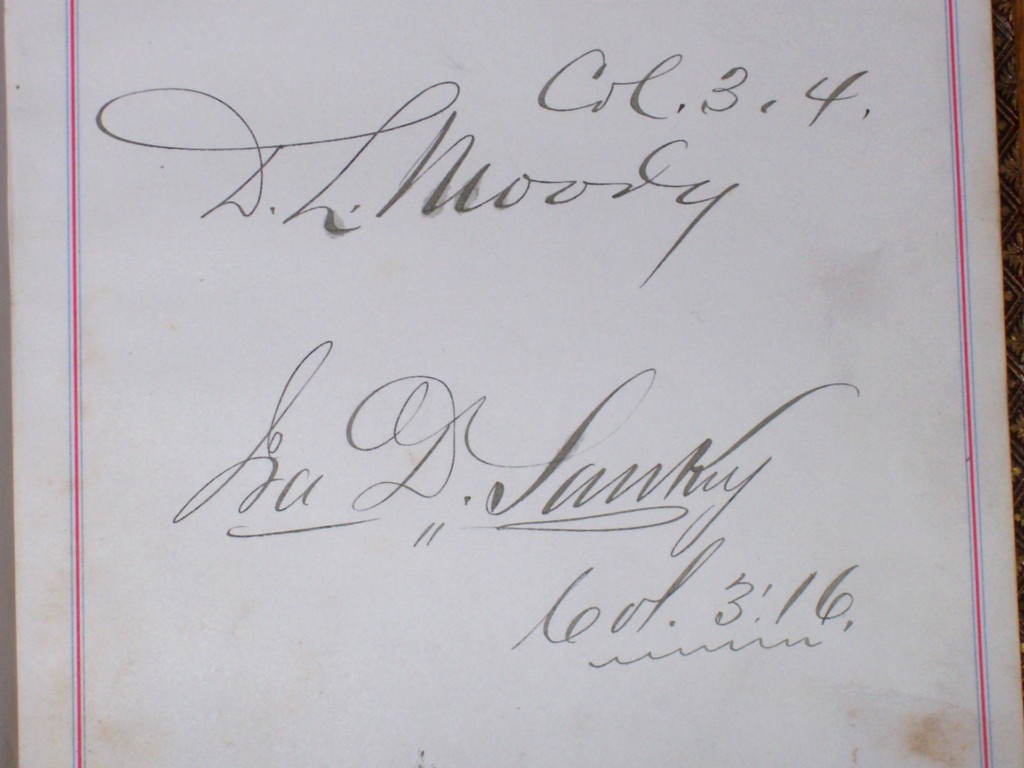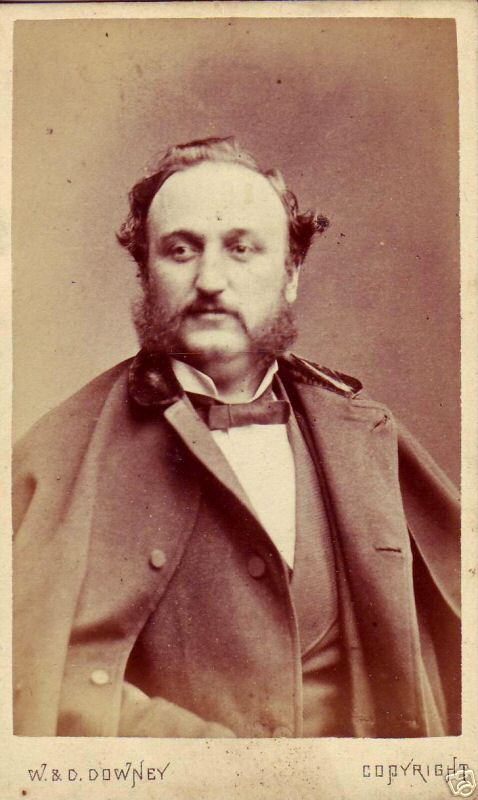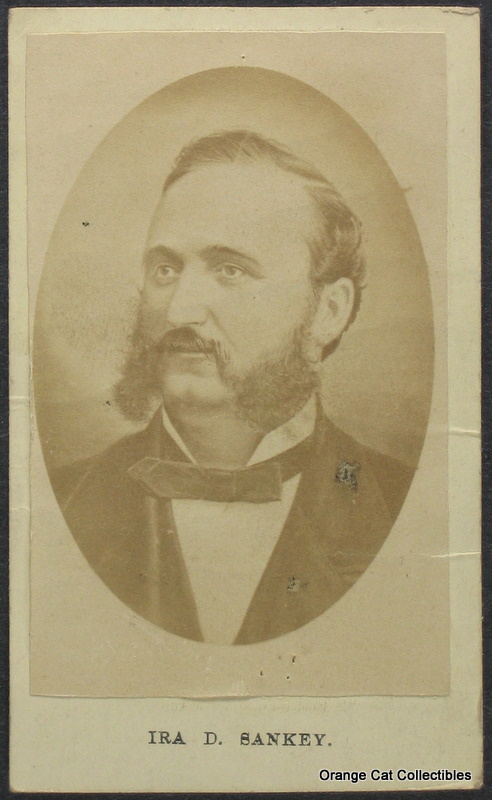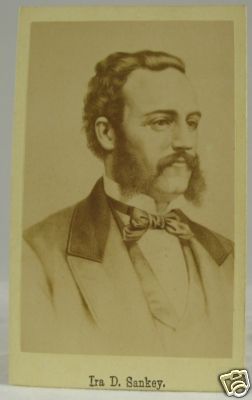 ---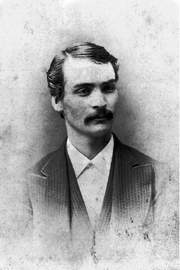 Charles Gabriel
---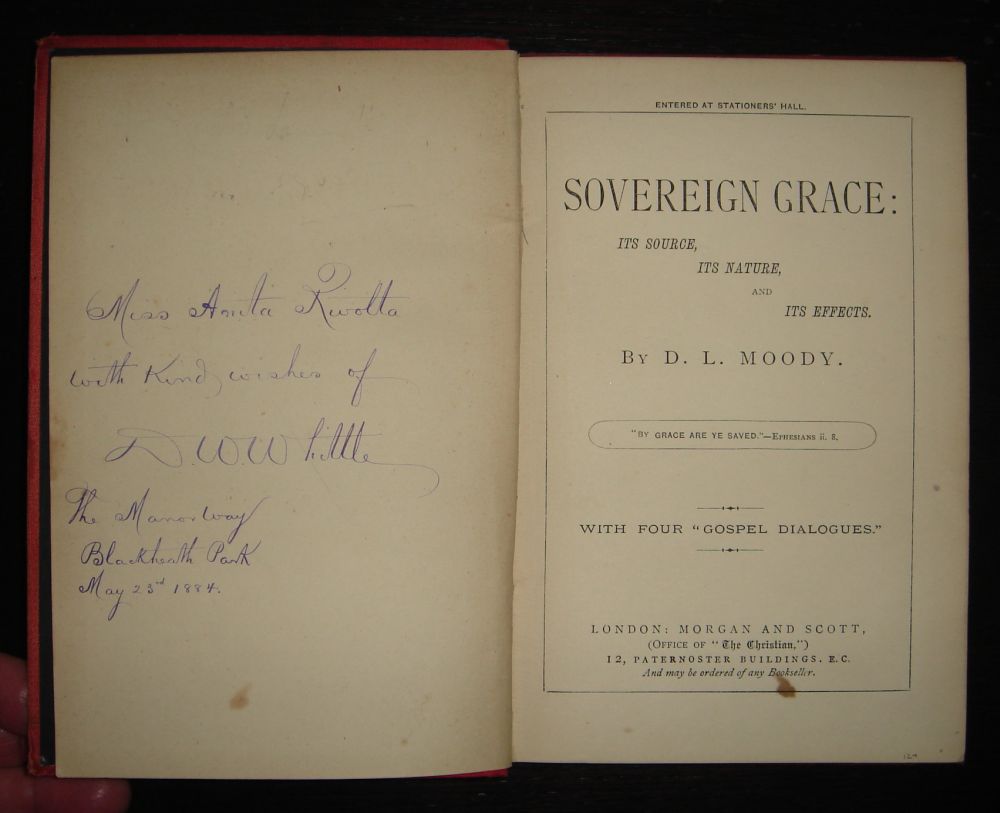 Major D. W. Whittle
(associate of Moody, Sankey & Bliss)
---
---
Homer Rodeheaver
EBAY ITEMS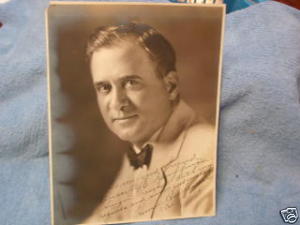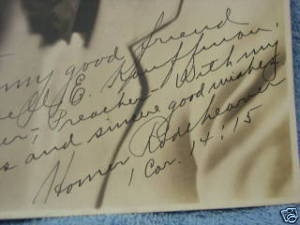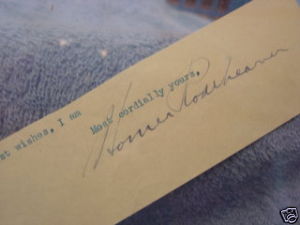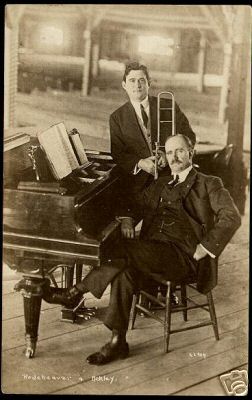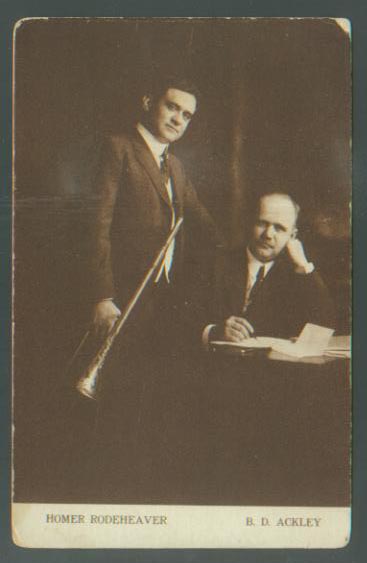 Homer Rodeheaver B.D Ackley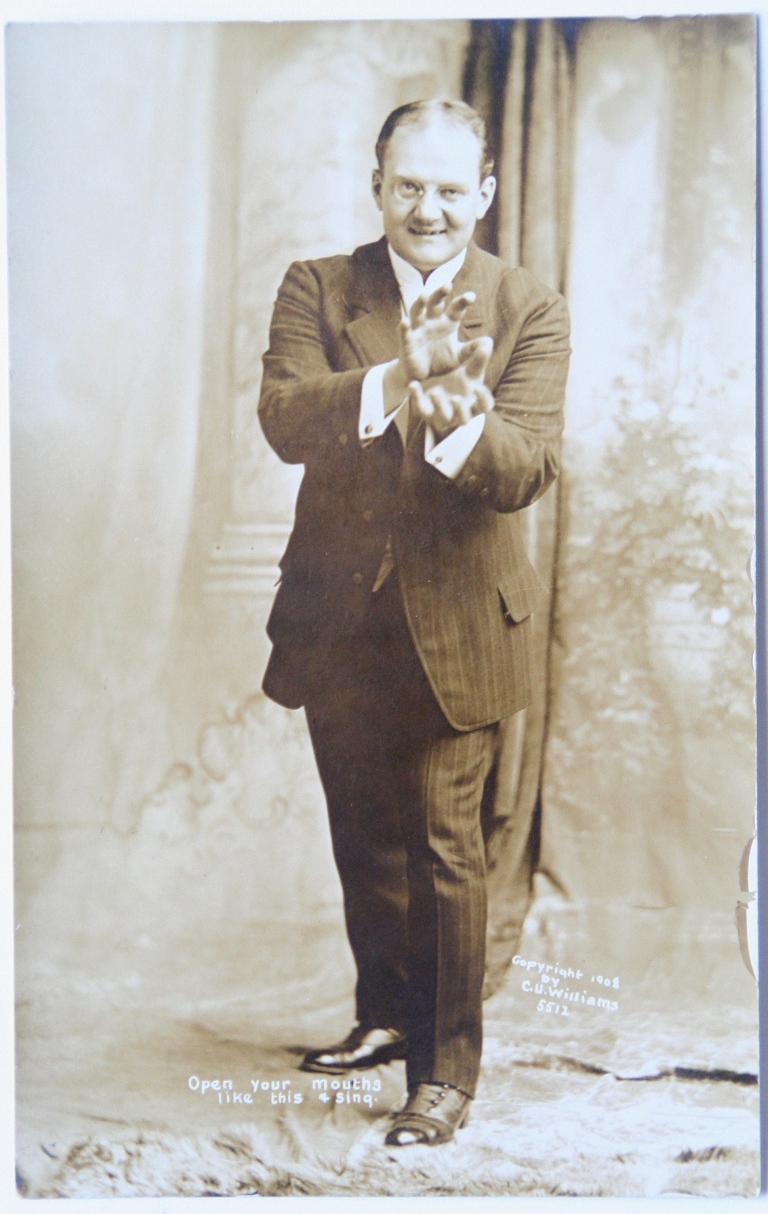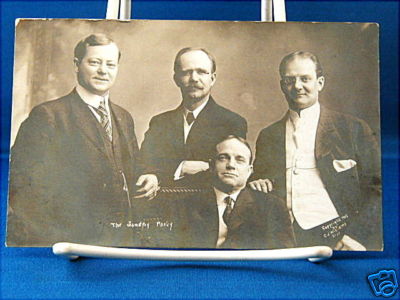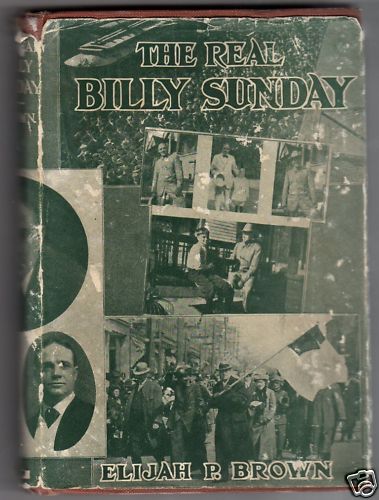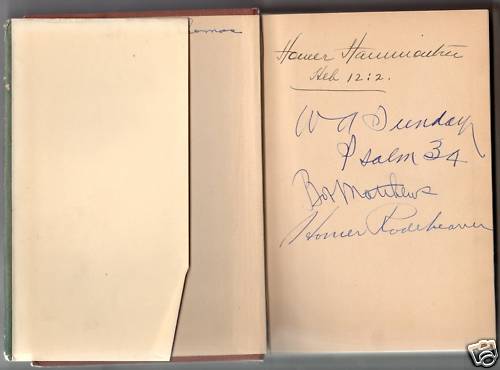 "The Real Billy Sunday"
signed by Billy Sunday and his music team: (approx 1927)
Homer Hammontree (choir director)
Bob Matthews (pianist)
Homer Rodeheaver (songleader)

Sold on E-bay 12/09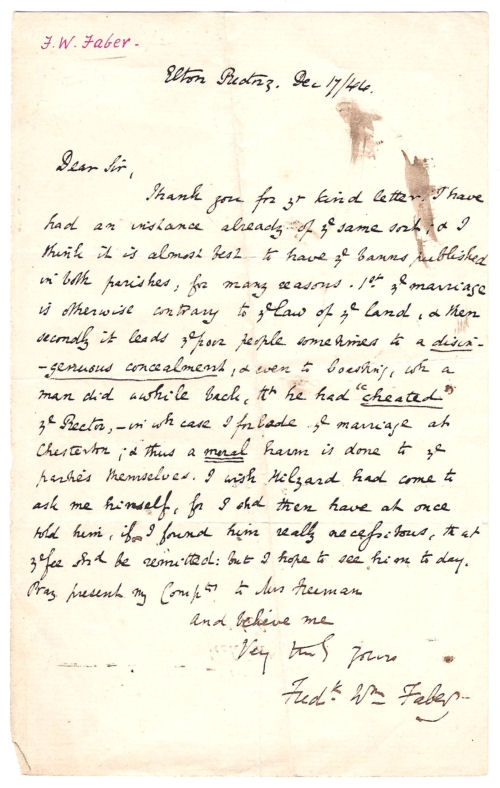 Frederick Faber letter
On E-bay 12/09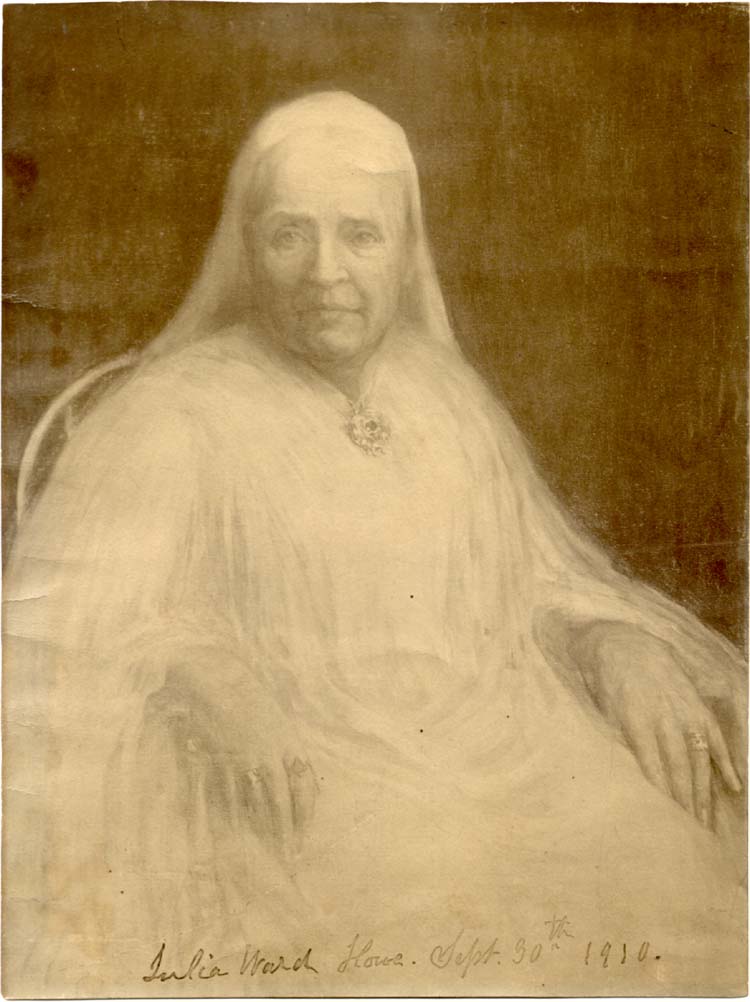 Julia Ward Howe Autographed Picture
(signed 3 weeks before her death)
On E-Bay 12/09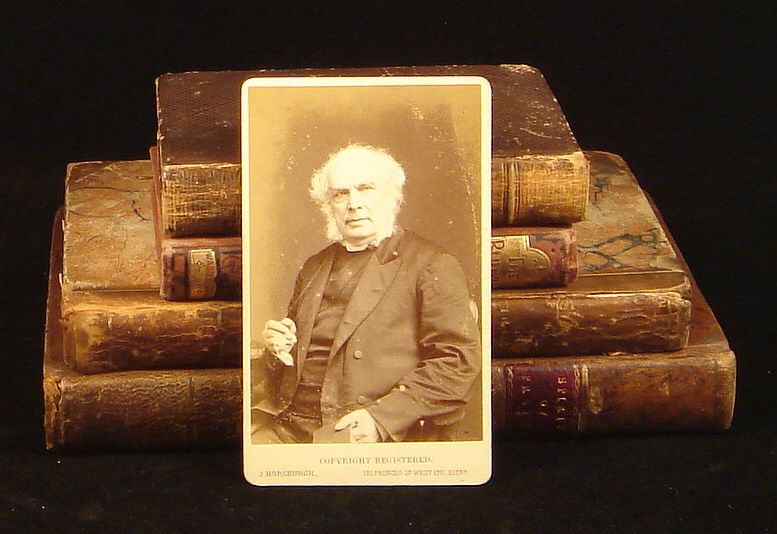 Horatius Bonar photo
---
Featured Christian Songwriters !
HOME TOP 10 SONG PAGES HOW TO USE CONTACT US


visits to this page since 1/1/09