Encouraging saints around the world since 1991 !!!

Our background MIDI is "Now Our God",
performed by Rhesa Siregar (from Indonesia)

As small Presbyterian Church (USA) we came across your website
just in time to add music to our site for the Thanksgiving Season.
It was truly a blessing...

( Tuscarora Presbyterian Church dates from 1740 )
(John, from West Virginia)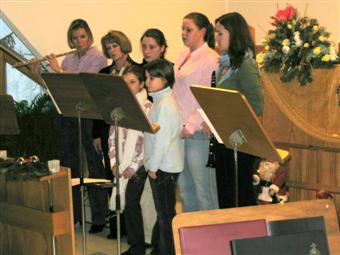 A church group in Kronberg, Germany included
"Now Our God" in their holiday concert!
THANKSGIVING
We are a small church and are planning to sing the song
"We Give Thanks To You Lord" with our Sunday School children
for our Thanksgiving service... We have also used
a few songs this year for our VBS program. (email from Canada)

All songs copyright Ralph Merrifield
New Hope Music, PO Box 1612, Westboro MA 01581
You have our encouragement and permission
to duplicate and share these songs for all "not-for-profit" purposes
(ie. corporate worship, overheads, songbooks, web sites, give-away copies).
Please contact New Hope for other uses. Thanks !!!
HOME TOP 10 SONG PAGES HOW TO USE CONTACT US


This page was last updated on 11/5/10