Encouraging people around the world since 1991 !!
Simply stated,
the mission of New Hope Music is...
"to provide free Scripture-based songs
that will encourage, strengthen and equip
many saints in every nation of the world."
WOW!! Thanks a zillion for blessing the church of our Lord Jesus
with such joyous and reverent and biblical lyrics set to such great music.
I went absolutely NUTS at your site!! (Pastor Ajit, from Sri Lanka)
I do hard work for children in villages who are rejected and poor.
I love the children and care for them through Christian music.
Please pray for me, that I may do the translation of your loving songs
for Christian communities in Pakistan, as i feel it is the voice of the Holy Spirit.
May God bless you and use you for his evangelistic work throughout the world,
especially in Pakistan. (Evangelist Samson, from Pakistan)
I teach music at a local church school for boys whose ages range
between 12 and 16 years. As such I am always on the lookout for songs with a
religious message but which of course have music that appeals to the younger generation.
From what I could see from your website, many of your songs are just that.
Tomorrow, I'll be teaching them "As the Trees" which I'm sure they will like.
(Carmen, from Malta)


LIST OF 230 COUNTRIES

THAT CURRENTLY HAVE
BEEN TOUCHED BY
NEW HOPE MUSIC
(as of October 2014)
Afghanistan, Albania, American Samoa, Andorra, Angola, Anguilla, Antarctica, Antigua, Argentina, Armenia, Aruba, Australia, Austria, Azerbaijan, Bahamas, Bahrain, Bangladesh, Barbados, Belarus, Belgium, Belize, Benin, Bermuda, Bhutan, Bolivia, Bosnia & Hercegovina, Botswana, Brazil, Brunei, Bulgaria, Burkina Faso, Burma, Burundi, Cameroon, Canada, Canary Islands, Cayman Islands, Central Africa, Chad, Chile, China, Columbia, Comoros Islands, Cook Islands, Costa Rica, Croatia, Cuba, Cyprus, Czech Republic, Denmark, Djibouti, Dominica, Dominican Republic, East Germany, East Timor, Ecuador, Egypt, El Salvador, England (United Kingdom), Eritrea, Estonia, Ethiopia, Fiji, Finland, France, French Polynesia, Gabon, Gambia, Ghana, Gibraltar, Greece, Greenland, Grenada, Guam, Guatemala, Guinea, Guinea-Bissau, Guyana, Haiti, Honduras, Hong Kong, Hungary, Iceland, India, Indonesia, Iraq, Ireland, Israel, Italy, Ivory Coast, Jamaica, Japan, Jordon, Kampuchia/Cambodia, Kazakhstan, Kenya, Kuwait, Laos, Latvia, Lebanon, Lesotho, Liberia, Libya, Liechtenstein, Lithuania, Luxembourg, Macao, Macaw, Macedonia, Madagascar, Malawi, Malaysia, Mali, Malta, Marshall Islands, Mauritius, Mexico, Micronesia, Monaco, Mongolia, Morocco, Mozambique, Namibia, Nepal, Netherlands, Netherlands Antilles, New Caledonia, New Zealand, Nicaragua, Niger, Nigeria, North Africa, North Korea, Northern Marianas, Norway, Oman, Pakistan, Palau, Panama, Papua New Guinea, Paraguay, Peru, Philippines, Poland, Portugal, Puerto Rico, Qatar, Reunion Island, Rodriguez Island, Romania, Russia, Rwanda, San Marino, Sao Tome & Principe, Saudi Arabia, Scotland, Senegal, Serbia & Montenegro, Seychelles, Siberia, Sierra Leone, Singapore, Slovakia, Slovenia, Solomon Islands, Somalia, South Africa, South Korea, Spain, Sri Lanka (Ceylon), St. Helena, St. Lucia, St. Martin, St. Vincent, Sudan, Suriname, Swaziland, Sweden, Switzerland, Syria, Taiwan, Tanzania, Thailand, Togo, Tonga, Transkei, Trinidad & Tobago, Turkey, Tuvalu (Funafuti Island), Uganda, Ukraine, United Arab Emirates, United States, Uruguay, Vanuatu, Vatican, Venezuela, Vietnam, Virgin Islands, Wales, West Germany, West Indies, Western Samoa, Yemen, Yugoslavia, Zaire, Zambia, Zimbabwe *
Only 17 countries left to reach...
(see unreached countries list)
Hallelujah !!!
I am a teacher at a high school in southern part of Ethiopia.
One day whole I was searching for spiritual songs,
I came across your web site and that pleased me.
God bless you for your nice music offering.
(Henok, from Ethiopia)
Oh you wonderful people!
Your wonderful deeds shall surely testify for you
before the Lord's holy throne. I am writing from Africa
to tell you that your music is truly uplifting.
(Morris, from Zimbabwe)

"From the West, they speak His majesty
and glorify Him in the East.
They even bless the God of Israel
in the islands of the seas!"

(lyrics from our song
"Glory To The Righteous One")
...I greatly appreciate your song,
"Praise The Lord, All Nations".
We sang it a while back at an evening meeting and
I appreciated its Biblical message.
Thanks for your good work. I just visited your website so
there are more things to explore there. (Terry, from Qatar)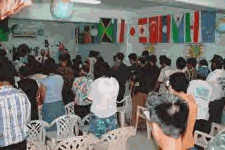 I am a missionary starting the very first Baptist Church in the
country of Palau. I am doing a search on the Internet to find music
for use in our small church since we have NO book stores in our little island nation.
We currently have 14 nationalities in our body. This makes for some
wonderful worshipping. We are looking for good Scriptural music for
our church. If we can help you reach your goal of getting these CDs and
sheet music around the world, we would love to....
We have the same desire... Matthew 28:19,20
(Rev. Terrence M. McClure, Missionary/ Pastor from Palau)

Just want you to know what a blessing this website
and the music you provide... is to us. Thank you so much for all the
effort that goes into writing music and the sharing of these
wonderful songs... and what a blessing that you make them available without cost.
We are missionaries in Romania and Ukraine and use
these songs in our daily family devotion time as well as in the
church here. We sing them in English and put the translation of
Romania up on the wall so the congregation knows what we are singing.
We have used quite a few of the songs from the website over the last few years.
When we were pastoring in South Dakota we used "I'm Grateful For The Cross"
at each Communion service. We continue to use this song in our devotions
and in the Romanian Church where I preach. We are also going
to have "I Was Glad" translated. (this is one of my very favorites songs!)
and we have used this in all of the churches we have pastored in.
"I Will Go" is another of my favorites, as well as "By the Mercies of God"
We used "Hosanna (It's Jesus)" for our Easter Services both in South Dakota
and in Minnesota. We also have missions work in Ukraine and
would like to translate some of these songs into Russian (with your permission).
I really appreciate the Scriptural basis of the music, the spirit of
worship they contain, and the simplicity that makes them great for
congregational singing, (as well as keeping it simple enough for "simple"
guitar players like myself!). (Rev. Michael, from Romania)
* I added a new feature to the web site in August 2008
that tracks what countries visit the main page.
I was delighted to discover that people from many of our "unreached countries"
were already coming to the site to check out the songs!
Praise the Lord !!!!