Encouraging people around the world since 1991 !!!

TABS

A great way to learn (and perform)
our songs is by using Tabs
(guitar, ukelele, other instruments)
In August 2021, Rachel Shirron wrote the following:
I love your songs and use them a lot! I have started learning guitar
and will be teaching Bible verses to my Sunday School 4 and 5 year-olds
using your songs and playing my guitar!
It will be the first foray into accompanying singing with the guitar!
In order to make it easier for me to succeed,
I rewrote the melody line out and added guitar tab to it.
I have your copyright at the bottom of the page, the same way you do.
I am attaching these pieces here so that you can
add them to your site if you wish. It may help
other people who are just learning guitar, too.
I was also able to create a guitar picking out the melody.
Thank you for your music. I love having the sheet music
with the lead sheet and chords so that I can
also play the songs on my clarinet and pick out the tune.
Your ministry is a true blessing for me and those who I touch.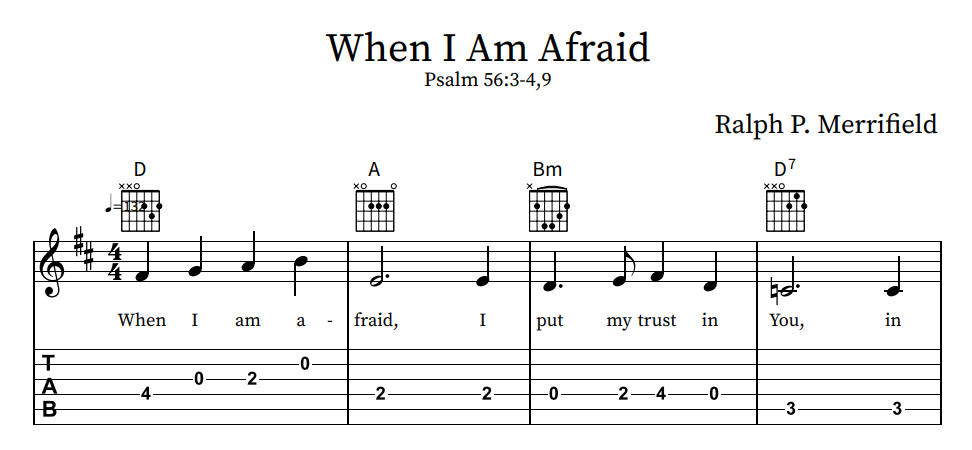 Song List
God's Will For You
written for Rachel Shirron
Guitar Tab Guitar/Clarinet Tabs
One Thing
Romans 6:23 Round
Set An Example
When I Am Afraid
To The Quiet Town Of Bethlehem
Please send Rachel an email if you would like
a guitar tab created for a specific New Hope Music song