Encouraging saints around the world since 1991 !!

Our background MIDI is "Hosanna (It's Jesus!)",
arranged by Fred Scorza.

NEW WORKS OF GRACE
(all songs copyright 1999, Ralph Merrifield)

HISTORY:
From 1995-1998, I wrote over 1000 choruses.
Most, mercifully, will never see the light of day,
but were useful in helping me develop
songwriting discipline and skills.
Because I worked two jobs to "provide for the family",
(also volunteering as church elder, Board member & worship leader)
I couldn't find sufficient time to record several new choruses
that we were using in our local church worship gatherings.
The solution? I spent two lunchtimes at
Duff Kirklewski's basement studio (5 minutes from my work),
laying down quick vocal and guitar tracks on his DAT recorder.
"New Works Of Grace" is the results of that very limited effort.
M = Midi File available
MP3 files for all these songs can be found on our
MP3 Central Page

Oh The Wondrous Cross PUBLIC WORSHIP M
Key of G, calypso version of
When I Survey The Wondrous Cross
(lyrics of verses by Isaac Watts)
When I survey the wondrous cross
On which the Prince of Glory died
My richest gain I count but loss
And pour contempt on all my pride

CHORUS:
Oh the wondrous cross (Oh the wondrous cross)
Source of life to me
Jesus paid the cost (Jesus paid the cost)
To set this sinner free !

Forbid it Lord that I should boast
Save in the cross of Christ, my God
All the vain things that charm me most
I sacrifice them to His blood (chorus)

See from His head, His hands, His feet
Sorrow and love flow mingled down !
Did e'er such love and sorrow meet ?
Or thorns compose so rich a crown?
(chorus 2x)

Were the whole realm of nature mine
That were a tribute far too small
Love so amazing, so divine
Demands my soul, my life, my all (chorus 2x)

He set this sinner free, oh
He set this sinner free, oh
He set this sinner free !!!
The God Of Jerusalem PUBLIC WORSHIP M
Key of Em, a lively Messianic chorus
There is none like the God of Jerusalem
He descends from the heavens above
With majestic splendor to help us
with His strength, with His might, with His power

Eternal God, our Refuge
Eternal God, our Rock
We find rest in the God of Jerusalem
In His everlasting arms (repeat to beginning)
AS THE TREES PUBLIC WORSHIP M
Key of Em, another lively Messianic chorus
along the lines of "Behold, God Is My Salvation"

As the trees in the woods lift their branches to the sky
So the people of the Lord raise their hands
To their good Creator, to the Author of Life
To the Lord, to the Maker, to the Lamb


Li li li li li
Li li li li li li
Li li li li li li li li li
Li li li li li
Li li li li li li
Li li li li li li li li li


As the birds in the air lift their voices to the sky
So the people of the Lord raise their song
To their good Creator, to the Author of Life
To the Lord, to the Maker, to the Lamb (chorus)

(repeat first verse and chorus 2x)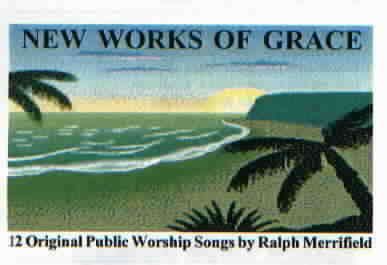 our cassette cover
Hosanna (It's Jesus!) PUBLIC WORSHIP M
(the background MIDI on this page)
Hosanna, hosanna,
blessed is He who comes in the name of the Lord
Hosanna, hosanna,
blessed is He who comes in the name of the Lord

Son of David, the King of Israel
Our Salvation, it's Jesus! Jesus !! (chorus)

Peace in heaven and glory to the earth
Hosanna in the highest. Jesus ! (chorus)

Rejoice greatly, behold your King has come
Shout in vict'ry it's Jesus ! Jesus !! (chorus)

Hosanna, hosanna,
blessed is He who comes in the name of the Lord
Hosanna, hosanna,
blessed is He who comes in the name of the Lord

Blessed is He who comes in the name of the Lord
Blessed is He who comes in the name of the Lord
I Will Walk PUBLIC WORSHIP M
I will walk in the ways of the Lord
I will walk in the ways of the Lord
In the ways of the Lord, our God
Forever and forever

I will walk in the truth of the Lord
I will walk in the truth of the Lord
In the truth of the Lord, our God
Forever and forever

Let us walk in the love of the Lord
Let us walk in the love of the Lord
In the love of the Lord, our God
Forever and forever

We will walk in the ways of the Lord
We will walk in the ways of the Lord
In the ways of the Lord, our God
Forever and forever
Forever and forever
Glory To The Righteous One PUBLIC WORSHIP M
Glory to the Righteous One
Glory to the Righteous One
All the ends of the earth will
sing the wondrous song
Glory to the Righteous One

From the west they speak His majesty
and glorify Him in the east
They even bless the God of Israel
in the islands of the seas

Glory to the Righteous One
Glory to the Righteous One
All the ends of the earth will
sing the wondrous song
Glory to the Righteous One
(repeat to beginning)

All the ends of the earth will
sing the wondrous song
Glory to the Righteous One
Holy, Holy, Holy PUBLIC WORSHIP M
Holy, holy, holy
Is the Lord God Almighty
Who was, and is and is to come
Holy, holy, holy
Is the Lord God Almighty
Who was, and is and is to come

Worthy, worthy, worthy
is the Lord God Almighty
Who was, and is and is to come
Worthy, worthy, worthy
is the Lord God Almighty
Who was, and is and is to come

Glory, glory, glory
To the Lord God Almighty
Who was, and is and is to come
Glory, glory, glory
To the Lord God Almighty
Who was, and is and is to come

Glory, glory, glory
To the Lord God Almighty
Who was, and is and is to come
By The Mercies Of God PUBLIC WORSHIP M
(Romans 12:1-2)
By the mercies of God (by the mercies of God)
I present my body
A living, holy sacrifice
My spiritual service of worship

May I not be conformed (may I not be conformed)
to this world
But be transformed
by the renewing of my mind

That I may prove what the will of God is
That which is good and acceptable and perfect
(repeat to beginning)

But be transformed by the renewing of my mind
New Every Morning PUBLIC WORSHIP M
New every morning, fresh every day
Your sweet compassions will never fail
Your lovingkindness will never cease
Great is your faithfulness,
oh Lord to me
Great is your faithfulness,
oh Lord to me
Benediction PUBLIC WORSHIP M
May you grow in the grace
and the knowledge of our Lord
and Savior Jesus Christ
May you grow in the grace
and the knowledge of our Lord
and Savior Jesus Christ

To Him be the glory both now and to that day
The day of His appearing, Amen !

May you grow in the grace
and the knowledge of our Lord
and Savior Jesus Christ
May you grow in the grace
and the knowledge of our Lord
and Savior Jesus Christ
Peace I Give To You PUBLIC WORSHIP M
Jesus is constantly giving;
we must be open to constantly receive...
(a two-part round)
"Peace I give to you,
peace I give to you
Greater that the world can give,
full and true"

Lord I receive Your peace,
Lord I receive Your peace
With open hands
and grateful heart,
I receive

2. Joy 3. Grace 4. Love
Way down in the land of Judea, oh yeah!
God sent to the earth a Savior, for all men

1. (2-5) One star for the Holy Light
Jesus was born in Bethlehem

2. Two proud parents, Joseph and Mary

3. Three wisemen from the east

4. Four shepherds with their sheep

5. Thousands of angels singing "Glory to God"

1999 photo




HOME TOP 10 SONG PAGES HOW TO USE CONTACT US