Encouraging people around the world since 1991 !!

[Karaoke Video]

[MIDI] [PDF Songsheet]
SEARCH ME, O GOD
(from Psalm 139:23-24)

Search me, O God, and know my heart
Try me and know my anxious thoughts
See if there be harmful ways in me
Then cleanse me, change me,
and lead me in Your ways
---
MEDIA FILES
Johan Komrij Karaoke Video Search Me, O God
Ralph Merrifield MP3 Search Me, O God

Fred Scorza MIDI arrangement Search Me, O God
Adrian V. Miller PDF Sheet Music Search Me, O God

The Faith Choristers (Singapore) Video Search Me, O God

Rolando De Guzman Reyes (the Philippines) Video Search Me, O God

Adrian V. Miller MIDI arrangement Search Me, O God

---
INTERNATIONAL
This song is being sung by a children's choir in South Africa !!
Two have translated into Afrikaans:
Liz Van Heerden (from Cape Town, South Africa) &
Philip Nagel (from Pretoria, South Africa)
Afrikaans translation
Recorded by Rolando De Guzman Reyes,
from the Philippines
Video recording

Translated into Hindi by
Daisy Augustine, from California
Hindi translation
Translated into PortuguÍs (Brasil) by
Daniel Borges, from Sao Paulo, Brazil
PortuguÍs (Brasil) translation
Translated into Urdu & Punjabi by
John Victor, from Pakistan
Urdu translation
Punjabi Translation
Translated into Tigrigna and Italian by
Eyob Habta, from Eritrea
Tigrigna translation
Italian translation
Translated into Finnish
by Lea Alaja, from Finland
Finnish translation
Translated into Swahili by
Steve Wasike and Paul Quitor, from Kenya
Swahli Translation
Translated into Dutch by
Maria J. van Aalderen
from the Netherlands
Dutch Translation
Translated into Chinese by
Amos Chan, from Taipei, Taiwan
Chinese Translation
---
TESTIMONIES
"I can't get that song out of my head... got it playing continually right now...
I woke up with it on my mind. I would like to show it to the song leader at
church to see if we could sing it..." (email from Patti)

Praise God for your ministry in New Hope Music. When I first listened your song
"Search Me, O God", I loved it so much that I couldn't wait to translate it into Chinese.
May God bless and transform the lives of all Chinese congregation as they
worship God through this wonderful song.
(Amos Chan, from Taiwan)
I was just browsing the net on some meditation for Lent
and happened to visit your site.

I am overwhelmed by your music and would like
to share them with my family and choir.
The Hymn "Search Me, O God" has really touched my heart...

I am planning to have a Lental retreat... and intend to sing the hymn
"Search Me, O God" over and over again until everyone is moved by it.
It would be wonderful if all are touched and healed...
(Pamela - from Chennai, India)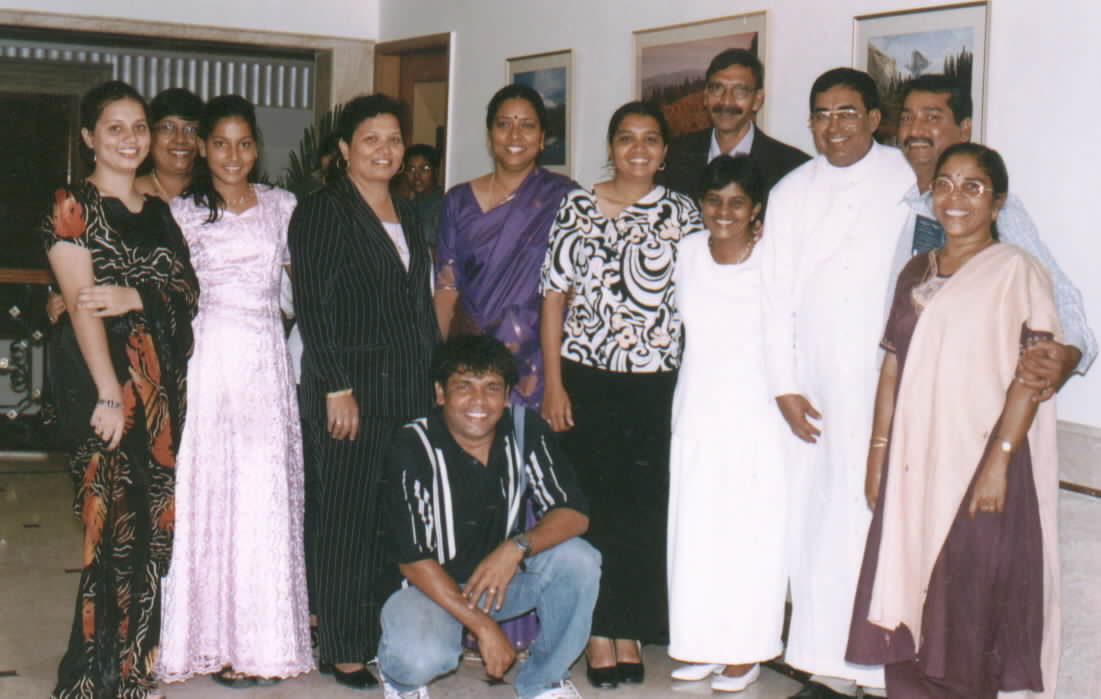 Your music is awesome. My name is Jane Chevalier. I play and perform on hammer dulcimer,
mountain dulcimer, autoharp and folk harp. I also teach all but the folk harp.

I donate my time teaching workshops at several music festivals around the Midwest. This July I will be teaching
at the largest hammer dulcimer festival in the world held in Evart, Michigan. This will be the fourth consecutive year
I'll be teaching a Hymn Duet Workshop along with two of my musical friends.

I have fallen in love with "Search Me O, God" and would like your written permission to teach, perform and pass this
wonderful hymn of praise along to others... The workshop handout will give credit to you as the composer but the
arrangement will be my own. Without your permission I will not, as a courtesy, teach your compositions.
(Jane, from Michigan)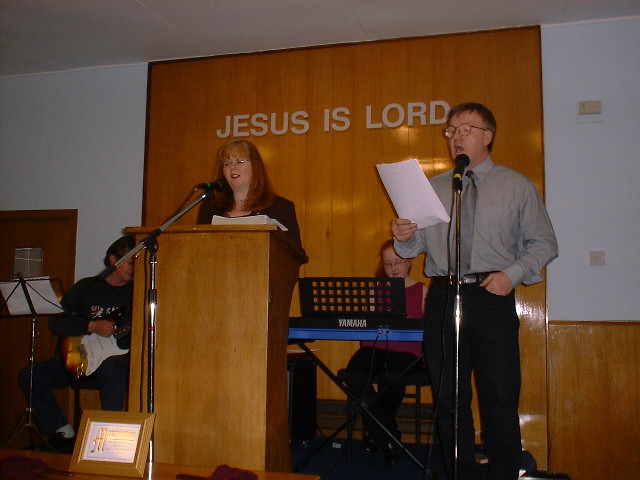 Frank (on guitar), Kay, daughter Linda (now 14) and husband David.
taken in 2002, Princess Street Gospel Mission Port, Glasgow Scotland
"I was browsing and came across your site. I was blessed greatly...
and so pleased to discover the songs were available for us to use.
I have downloaded "In The Splendor Of Your Courts", 'How Precious Is Your Love',
"Center Of My Soul" and the wonderful 'Search Me, O God'...
We led worship again on 22nd June and sang 'Search Me, O God' and
"In The Splendor Of Your Courts"... our friends love your songs.
They're simple to learn with a great message. God bless you and all the work you do."
(Kay, from Scotland)
My name is Peter Day and I am the director of my own
creative arts ministry here in New Zealand. See our web site

We write and produce Biblical musicals and are in the process
of writing a new musical called 'In the Shadow of Messiah', (based)
on the life of David. Most of the songs and script has been written,
except for a few gaps which we are believing the Lord to fill.

I came upon your web site by chance over the Christmas / New Year break and
fell in love with four of your songs ("Center Of My Soul", "Wait On The Lord",
"How Precious is Your Love" and "Search Me, O God")

... I am writing to ask if we could us these songs in our new musical.
(Peter, from New Zealand)
"The Lord directed me to this page today and what a blessing I've received.
I'm a pastor's wife and have many trials at present. My sister is seriously ill
and doctors offer little hope, my dad is unsaved and has cancer, and my
unsaved mother has been ill with pneumonia/congestive heart failure.
I have lupus so the needs are great and the stresses are high!
But, when I listened to "Center Of My Soul" and 'Search Me, O God',
it was as if God wrapped me up in a big blanket and sat me on his lap.
I've already phoned my husband who will be sharing this website with
our worship leader tonight! I bless each of you for your faithfulness to
God's Word and sharing these songs with the body of Christ.
One day we can all sing them around the throne."
(Mary Ann, from Oklahoma)
"We know and use some of your songs in our church, like...
'This Day Is Holy' and 'Search Me, O God'. We have some
brothers in our church who can translate these songs
into our local language" (Paul, from Kenya)
---
4-verse hymn based on this chorus

Recorded on: "Before The Coming Lord"
"Songs Of New Hope"
See other Easter and Palm Sunday Songs

Copyright 1992, Ralph Merrifield (written 5/8/91)
New Hope Music, PO Box 1612, Westboro MA 01581
You have our encouragement and permission
to duplicate and share this song for all "not-for-profit" purposes
(ie. corporate worship, overheads, songbooks, web sites, give-away copies).
Please contact New Hope for other uses. Thanks !!!