Encouraging saints around the world since 1991 !!

Our background MIDI is "He Shall Be Called",
written by Ralph Merrifield,
arranged by Fred Scorza (from Pennsylvania)

We will be doing "You Gave Us Hope" this next Sunday.
Also want to do "The Baby of Bethlehem" and "He Shall Be Called"
for Christmas. (email from Esther)
CHRISTMAS SONGS
by Ralph Merrifield
He Shall Be Called
a simple, Scripture-based Christmas carol
being sung by many churches, choirs & children around the world
Read Testimonies of some who used "He Shall Be Called"
I am ... a Music Teacher in St. Francis
Anglo Indian Girls High School in Coimbatore.

I decided to teach "He Shall Be Called" and "You Gave Us Hope" 
to our school children for Christmas Carol 2007.

As we began our practices, our children were moved by
the Spirit of the Lord and they told me that they felt
peace, joy and happiness.

It is truly uplifting music and an inspiration from
the Holy Ghost to you. God wants you to be an
instrument in His hands to do this marvelous work to
build His kingdom here on this earth.
(Charles, from India)
The Baby Of Bethlehem
A Christmas Hymn!
Check out the new arrangements :)
I have been blessed. I found "The Baby Of Bethlehem" and thought that was sooooo beautiful!
I had to pleasure to play "The Baby Of Bethlehem" for a church in a
county North of me and the church paid me a good amount...
I donated it right back to the church. I play flute and... am starting a lot of
professional performance in churches... Keep up the great work.
The music is AWESOME! (email from Lisa)
You Gave Us Hope
A song for Advent
Hello, I am the eighth grade teacher at Holy Spirit School....
I have the dubious honor of organizing the Christmas program for
our school. I was at my end trying to find a song appropriate for my class to sing
when I happened upon your web site and the beautiful song,
"You Gave Us Hope." Thank you and God Bless you. We will sing it on December 14
at our program in praise of Jesus and in thanksgiving for you and your great gift.
(Anne, from California)
Jesus Was Born In Bethlehem
in the style of "The Twelve Days Of Christmas"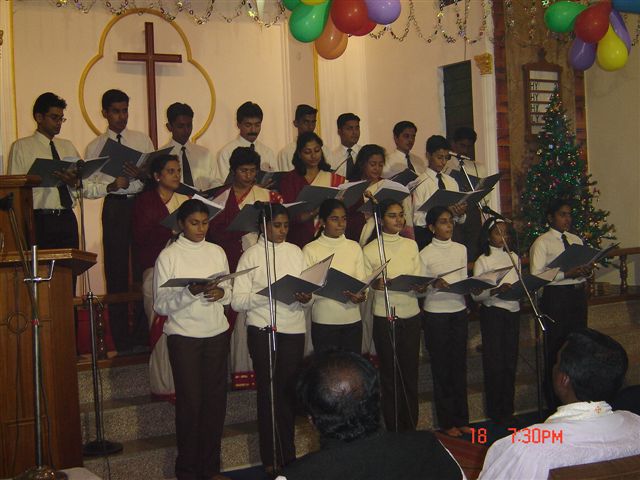 After listening to SATB arrangement from your site, I selected
two of your beautiful Carols "He Shall Be Called" &
"The Baby Of Bethlehem" and presented by my Choir
during the Christmas programmes in December 2003
and 2004. These were the best enjoyed among the seventeen carols
we presented. The tune and arrangement were indeed
exceptional and the effort is really commendable.
May God bless you and let you create more such carols
to enable attracting many souls to His Kingdom.
(K.M.Thomas, Choir Director, CNI Immanuel Church, Mayur Vihar, New Delhi, India)
---
CHRISTMAS HYMNS & ARRANGEMENTS!
by Adrian V. Miller

All Hail Immanuel * ALL HAIL IMMANUEL
Angels We Have Heard On High * GLORIA (Barns) * Descant to traditional Christmas Carol
New!! Come To The Manger * ANIMA CHRISTI New!!
Glory Be God In The Highest * ANGELS-1

Glory To God * GLORYGOD
Glory To Our Lord And King * INNOCENTS
Joy To The World * ANTIOCH * Descant to traditional Christmas Carol
Kom Naar Zijn Kribbe * ANIMA CHRISTI-Du
Oh Come, All Ye Faithful * ADESTE FIDELES * Descant to traditional Christmas Carol
---
CHRISTMAS HYMNS
by Steven E. Anderson
New!! Of Old The Prophets Have Foretold (ST LOUIS) New!!
New!! Of Old The Prophets Have Foretold (CAROL) New!!
New!! Dark Was The Night New!!
New!! Oh, Starry Sky New!!
New!! Christ Our Savior Came New!!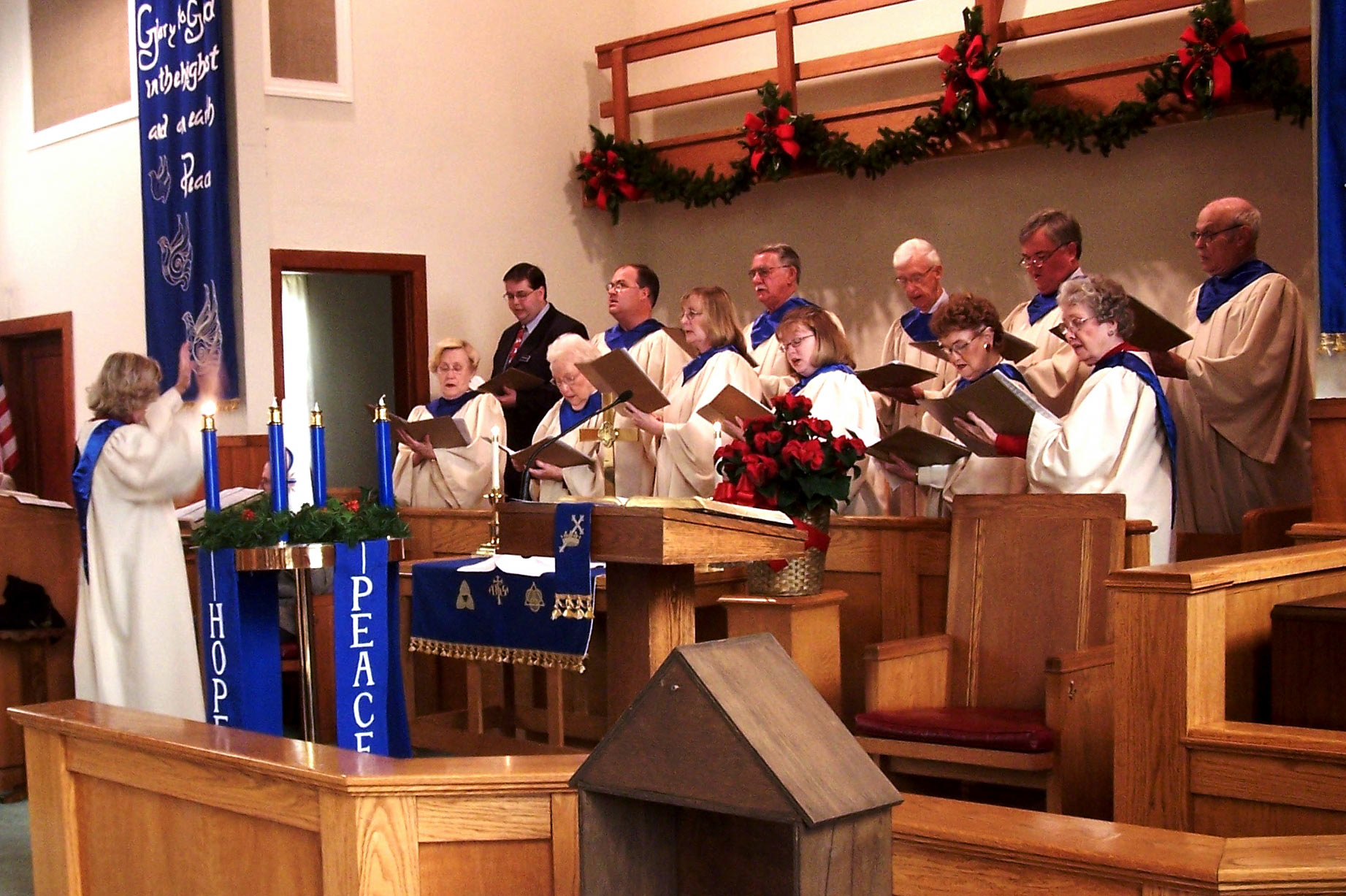 .
Thank you for the "He Shall Be Called" music.
Our choir at St Luke United Methodist Church sang it
the first Sunday in Advent for our anthem.
The congregation liked it so well, I decided for us to sing it (1st verse)
as a Call to Worship, which we are doing every Sunday
for the Advent season. We have a young man who plays the guitar
along with the piano. The congregation loves to sing it!
Attached is a picture of our choir singing the song on November 27, 2005.
(Patty, Choir Director from South Carolina)
You might also like to visit these holiday web pages...
"A Christmas Carol Treasury: The Hymns And Carols Of Christmas."
Over 1,500 Christmas hymns and carols can be found at this site,
including several of ours!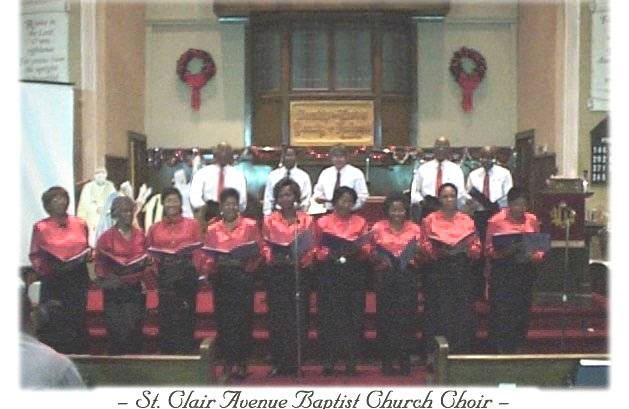 We've used a number of New Hope Music songs in the past:
"He Shall Be Called"... 'The Baby Of Bethlehem' is a personal favourite...

My choir sang your wonderful song, "You Gave Us Hope"
in our Christmas Morning service last year.
(Brian James Wallace, from Canada)
Hear the St. Clair Avenue Baptist Church choir
adapted version of "You Gave Us Hope"
OTHER CHRISTMAS MIDIs
I got to know about your website through the Internet when searching for Christmas songs...
My choir really likes "He Shall Be Called". I want to use more (of your) songs with my choir.
(Sola Adetutu, from Nigeria)

All songs copyright 1979 - 2009, Ralph Merrifield
New Hope Music, PO Box 1612, Westboro MA 01581
All hymns copyright Adrian V. Miller or Steven E. Anderson
You have our encouragement and permission
to duplicate and share these songs for all "not-for-profit" purposes
(ie. corporate worship, overheads, songbooks, web sites, give-away copies).
Please contact New Hope for other uses. Thanks !!!



visits since 1/1/09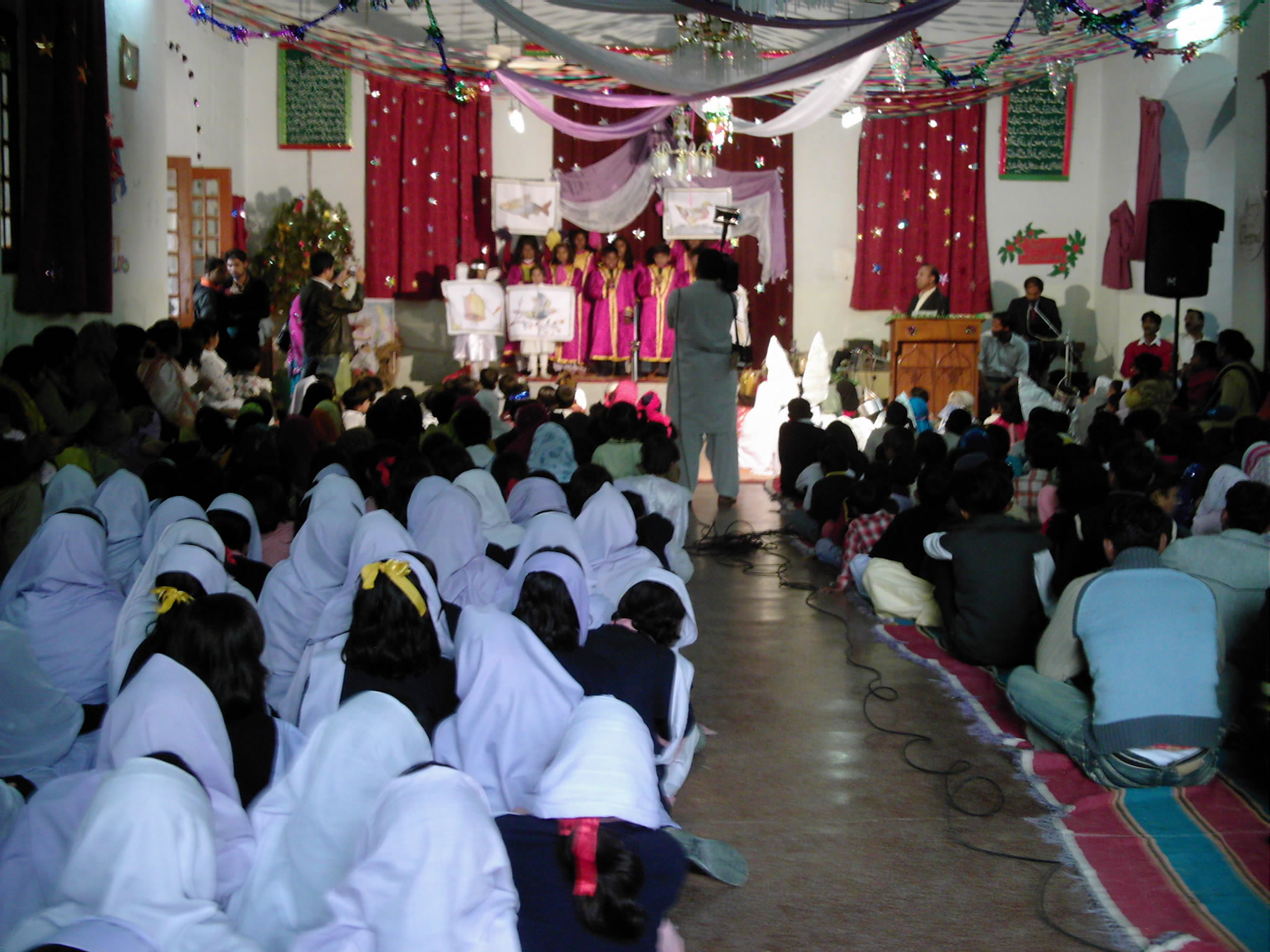 Before the Tablo, different Sunday Schools sang songs. We sang
"Have You Ever Heard...?" and explained that Jesus was born
among animals and now animals praise the Lord. It was the first time
in Pakistan we sang the song to a gathering of good and educated people.
They liked it very much (Samson, from Pakistan)
HOME TOP 10 SONG PAGES HOW TO USE CONTACT US